Welcome to Stephenson Area Public Schools
Mission Statement Stephenson Area Public Schools provides a safe environment to educate, challenge and inspire all students to be life-long responsible learners.
School Resources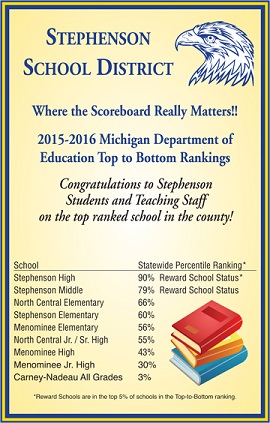 SAPS Calendar
District News

January 21, 2019
Boy's Basketball Game after Wisconsin Herd Game
January 18, 2019
Sportsmanship for Adults
Please take time to read this interesting article on how adults are effecting high school sports.  Sportsmanship
January 15, 2019
Rescheduled basketball game
Wednesday, February 20th will be the date of the make up game against Rapid River. Same game times; 5:00 pm CST with Varsity to follow approximately 6:30 pm CST.
January 7, 2019
BPA Regional Results
BPA members competed in the regional competition on Janurary 4th.  Congratulations to everyone.  Results
October 22, 2018
Thank you!
Thank you to the Stephenson Fire Department and Valley Med Flight for their presentations about fire safety and for the helicopter landing demonstration on Thursday, October 18th.
September 14, 2018
FOIA Guidelines for Stephenson
July 11, 2018
Michigan Department of Education Score Card
Thank you students, parents, community and staff for helping us achieve the following ratings:
Middle/High School: 97.9%
Elementary School: 91.7%
Congratulations High School on receiving a bronze medal from US News and World Report.