Welcome to Stephenson Area Public Schools
Mission Statement Stephenson Area Public Schools provides a safe environment to educate, challenge and inspire all students to be life-long responsible learners.
School Resources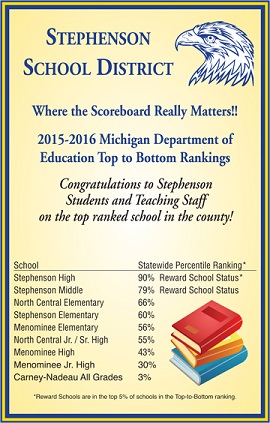 SAPS Calendar
District News

March 15, 2019
Robotics Competition
You can watch the Robotics competition on Friday (3/15) and Saturday (3/16) at the following link: Robotics Competition
March 13, 2019
District Annual Education Report 2019
March 13, 2019
Elementary School Annual Education Report 2019
March 13, 2019
Middle School/High School Annual Education Report 2019
January 30, 2019
Delay Procedures
Please see the attached letter from the superintendent regarding delay procedures.  Delay procedures
January 7, 2019
BPA Regional Results
BPA members competed in the regional competition on Janurary 4th.  Congratulations to everyone.  Results
October 22, 2018
Thank you!
Thank you to the Stephenson Fire Department and Valley Med Flight for their presentations about fire safety and for the helicopter landing demonstration on Thursday, October 18th.