Welcome to Stephenson Area Public Schools
Mission Statement Stephenson Area Public Schools provides a safe environment to educate, challenge and inspire all students to be life-long responsible learners.
School Resources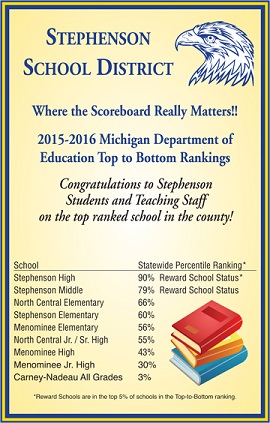 SAPS Calendar
District News

August 1, 2019
Middle / High School Schedule Changes
Middle and high school student schedules are now available on PowerSchool.  If you do not have access to PowerSchool, please contact the high school office for your information.  Schedule changes can be made by emailing Mrs. Grille at pgrille@stephenson.k12.mi.us or stopping in the high school office during the following times.
8/5 - Monday - 10am to 4pm
8/6  - Tuesday - 10am to 2 pm
8/7 - Wednesday - 12pm to 5 pm 
8/8 - Thursday - 8 am to 1 pm
All dual enrollment and online students must stop in the office to pick up forms that require a parent signature in order for the student to take the class.  Any student using a fall sport for their physical education credit pick up the required form in the office or from your coach.
Dual enrollment students have a mandatory meeting on Tuesday, August 20th at 11 am with representatives from Bay College.  For students who cannot make the meeting, please email Mrs. Grille notifying her of the reason and plan on stopping in the office later in the week.  Chromebooks will also be distributed at this time to the dual enrolled students providing the appropriate paperwork has been completed and the $20 fee is paid.  Please note college classes start on August 26th.
Chromebooks will be distributed to grades 6-12 students during the week of August 26th. 
June 19, 2019
Stephenson Area Public School Hours
Stephenson Area Public School Hours
Stephenson Elementary School Office 906-753-2221 x 320
Monday through Wednesday 8:00 am. to 12:00 p.m.
Stephenson Middle/High School Office 906-753-2221 x 100
Monday through Thursday  8:00 am. to 12:00 p.m.  
Stephenson District Office 906-753-2221 x 104
June 17, 2019
Youth With Mental Health Challenges Workshop
June 1, 2019
Sports Physicals information
April 10, 2019
Kindergarten and Great Start Readiness Program Registration
It's time to register for kindergarten and/or the Great Start Readiness Progam. Please call the elementary office at 906-753-2222 Ext. 320.
Click on the link for more information: Registration Info
April 1, 2019
Press Release School Index Scores
March 13, 2019
District Annual Education Report 2019