Welcome to Stephenson Area Public Schools
Mission Statement Stephenson Area Public Schools provides a safe environment to educate, challenge and inspire all students to be life-long responsible learners.
School Resources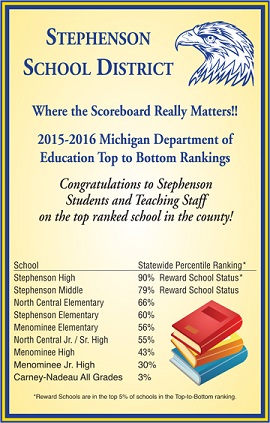 Academic Calendar
District News

June 15, 2018
School Closure
Stephenson Area Public Schools offices will be closed the week of July 2nd, 2018.  The offices will reopen on Monday July 9th, 2018.  
June 12, 2018
Summer School Credit Recovery
If a student needs to make up credits this summer, please contact the high school office.  Summer classes start 6/18 and have to be completed by 8/10.
June 12, 2018
Summer skills for 7-9 graders
If a student in 7-9 grade is interested in improving your math and/or English skills over the summer please contact the high school office.  Mrs. Grille will add you to a classroom with resources to improve these skills.  There are also open lab times in both buildings availabke to use a computer and internet.  Contact the high school office for lab times.
May 21, 2018
Special Board Meeting
There will be a special board meeting at 7:30 p.m. in the Middle School/High School Library 
April 16, 2018
COMMUNITY FOUNDATION PARTNERS WITH STEPHENSON AREA PUBLIC SCHOOLS
A Safety Around Water program grant for all students in fourth grade has been awarded to Stephenson Area Public Schools.  Partnering with the M&M Area Community Foundation, The Stephenson School District accessed resources received from the Michigan Health Endowment Fund.
"We are very appreciative of this funding and the support of the M&M Area Community Foundation," said Becky Marciniak, Stephenson Area Public Schools, K-12 Assistant Principal.  "Without their support we would not be able to provide this opportunity for our students."
Free lessons will be provided to the Stephenson District by the Greater Marinette-Menominee YMCA, a national leader in youth swim safety programs.  YMCA instructors will teach children about safety in and around water, including the use of life jackets and rescue techniques. 
"I am very happy to see this opportunity for the children of the Stephenson area.  I remember as a youngster similar programs and vividly recall riding the bus down to the YMCA," said Mark Rasner, M&M Area Community Foundation board member.  "I am pleased and proud the Foundation is aware of the needs of the out-county areas."
April 13, 2018
Kindergarten & GSRP Registration
It's time to register for next year. Please call the elementary office to set up an appointment - 906-753-2222 Ext 320.
Click on the link for more information:
April 8, 2018
Art show recognizes students
Stephenson students won 14 awards at the Bonifas Art Show in Escanaba. Congratulations to all of the winners.  Stephenson has 15 students' work in the Menominee Area Arts Council Youth Artist Exhibit at Spies Library. Their work will be on display through April 27, 2018.