Welcome to Stephenson Area Public Schools
The mission of the Stephenson Area Public Schools is to provide an appropriate educational program and learning environment which will effectively meet the educational needs of its students and community and help its students accomplish educational goals which are significant, durable, and transferable.
School Resources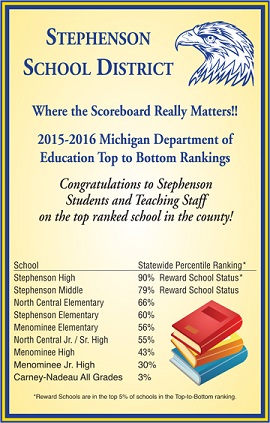 Academic Calendar
District News
March 24, 2017
Congratulations Mrs. Wyble!
This past weekend Mrs. Wyble received the Barbara Chambers Outstanding Advisor Award for BPA.  In addition, she received an award for her 40 years of service.  
March 24, 2017
District Offices Closed
Just a reminder that all district offices will be closed from 4:00 pm March 24 until students return on April 3, 2017.  Have a great spring break!
March 24, 2017
Letter from the Board of Education - Charter School
March 24, 2017
Robotics heads to LSSU
The Robotics team will be heading to the LSSU Norris Center for their second qualifying event of the season.  The team will be competing with 40 teams on March 30 - April 1, 2017.  Go Eagle Robotics, Team 6088!
March 24, 2017
Track T-shirts
Click on the attached file to order your 2017 Stephenson Track T-shirt.  Orders are due by April 6.